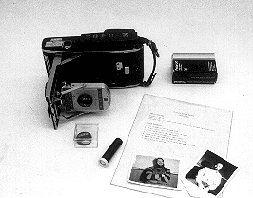 L1-23: PINHOLE POLAROID CAMERA
PURPOSE: Produce polaroid pictures with a pinhole camera.
DESCRIPTION: The lens has been removed from a polaroid camera and push-on pinholes of 0.020 inches and 0.031 inches can be positioned onto the camera in place of the lens.
This does not produce a real bright image, but is adequate with use of a Fresnel spotlight. Practice is needed for good success.
SUGGESTIONS:
REFERENCES: (PIRA unknown.)
EQUIPMENT: Pinhole polaroid camera with spotlight.
SETUP TIME: None.
---