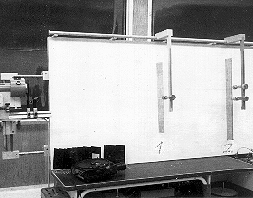 L1-22: OPTICAL BOARD - PINHOLE CAMERA
PURPOSE: To demonstrate how a pinhole "image" is formed.
DESCRIPTION: The camera is represented by the region between the two baffles on the optical board. The left baffle has a small slit representing the pinhole, and the right baffle has a light surface to make the ray visible. Hold the carousel projector by hand and shine it at the "camera." from a position at the left of the optical board. The position of the source and the position of the "image" are related.
SUGGESTIONS:
REFERENCES: (PIRA 6A61.10)
EQUIPMENT: Optical board with slitted and unslitted plates, carousel projector.
SETUP TIME: 5 min.
---