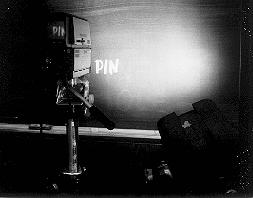 L1-24: PINHOLE TV CAMERA
PURPOSE: Demonstrate a pinhole "image" using a TV camera.
DESCRIPTION: A pinhole of either 0.031 inch or 0.020 inch is positioned on the front of a TV camera, replacing the lens. The resulting image on the videcon of the TV camera is a "pinhole image." Change pinholes to vary the resolution of the image. It can be used with other objects as long as they are well lighted.
SUGGESTIONS:
REFERENCES: (PIRA unavailable.)
EQUIPMENT: TV camera with pinholes, monitor.
SETUP TIME: 5 min.
---