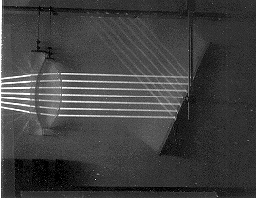 L2-01: OPTICAL BOARD - PLANE MIRROR
PURPOSE: To demonstrate reflection from a plane mirror.
DESCRIPTION: This demonstration shows that the angle of incidence is equal to the angle of reflection. Use colored slits to show that this is good for all colors. (There is no chromatic aberration in a reflecting telescope.)
SUGGESTIONS: Adjacent concave and convex lenses are used to produce a parallel beam of light rays.
REFERENCES: (PIRA 6A10.10)
EQUIPMENT: Optical board with plane mirror.
SETUP TIME: None.
---