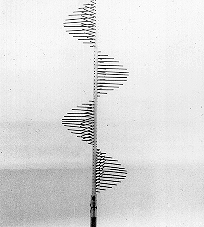 K8-01: ELECTROMAGNETIC WAVE - MODEL
PURPOSE: To show the relationship between the electric and the magnetic field vectors in a plane-polarized traveling electromagnetic wave.
DESCRIPTION: Red pegs represent the electric field vector and blue pegs represent the magnetic vector. The spatial relationship between these vectors and the direction of propagation can be seen. By moving the model along its axis the temporal aspect of the wave can be shown.
SUGGESTIONS:
REFERENCES: (PIRA 5N10.80)
EQUIPMENT: Electromagnetic wave model, as photographed.
SETUP TIME: None.
---