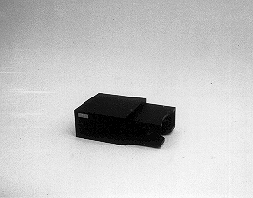 L1-21: PINHOLE IMAGE - GROUND GLASS SCREEN
PURPOSE: To view individually a pinhole "image."
DESCRIPTION: A pinhole in the back end of the outer box casts an "image" on a ground glass screen at the enclosed end of the inner box. The image is viewed through the open end of the box as the inner box is slid back and forth to change the size of the image.
SUGGESTIONS: Point out that a pinhole "image" is not really an image at all. What is it?
REFERENCES: (PIRA 6A61.21) See Demonstration Reference File for other information, including the complementary pinhole image.
EQUIPMENT: Box with pinhole and movable ground glass screen.
SETUP TIME: None.
---