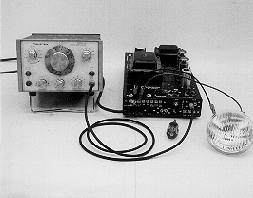 L1-05: PERSISTENCE OF A FILAMENT
PURPOSE: To demonstrate that high-frequency AC looks like DC.
DESCRIPTION: A sealed beam car headlamp is run by an oscillator and audio amplifier. Below about 20 Hz the light flickers, but above 20 Hz it appears continuous. This persistence is caused partly by your eye and partly by the heating of the filament remaining relatively constant over the period of the applied AC voltage.
SUGGESTIONS:
REFERENCES: (PIRA unknown.)
EQUIPMENT: Audio oscillator, 100 watt amplifier, and sealed beam auto headlamp.
SETUP TIME: 5 min.
---