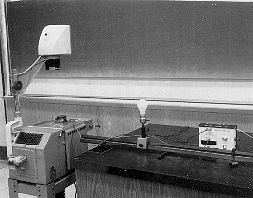 L1-11: INVERSE SQUARE LAW - LIGHT BULB AND RADIOMETER
PURPOSE: To demonstrate that light obeys the inverse square law.
DESCRIPTION: The intensity of the bulb as a function of distance can be measured by a radiometer, verifying the inverse square relationship. The radiometer reading is displayed using an overhead projector slave meter.
SUGGESTIONS:
REFERENCES: (PIRA 6B10.20)
EQUIPMENT: 150 watt point source, radiometer, 10VDC projection slave meter, two-meter optical rail.
SETUP TIME: 5 min.
---