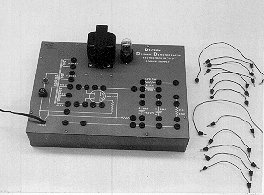 K6-43: POWER SUPPLY DEMONSTRATOR
PURPOSE: Demonstration power supply with rectifier, filter, and load.
DESCRIPTION: This is a commercial device which allows you to look at the signal as it passes through a rectifier and filter to a load. It is hardly ever used, so we don't have a lot of suggestions about it. As far as I know, it works.
SUGGESTIONS:
REFERENCES: (PIRA unknown.)
EQUIPMENT: Power supply demonstrator. Other accessories and components available on request.
SETUP TIME: None.
---