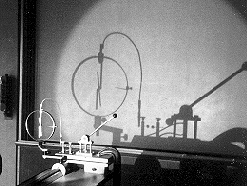 K5-01: PIEZOELECTRICITY
PURPOSE: Demonstration of a piezoelectric crystal.
DESCRIPTION: Pushing down on the handle stresses the crystal, producing piezoelectic charge which is displayed on the electroscope. Several pushes may be necessary to build up enough charge.
SUGGESTIONS:
REFERENCES: (PIRA 5E60.20)
EQUIPMENT: Piezoelectric crystal with compression mount stand, electroscope with point light source, C-clamp to hold down crystal mount.
SETUP TIME: 5 min.
---