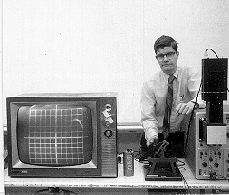 K6-42: SINE WAVE AND RECTIFIED SINE WAVE
PURPOSE: To show the AC output from a generator and how it is converted to full-wave rectified AC using a split ring commutator.
DESCRIPTION: This uses the large hand-cranked generator and an oscilloscope to actually see the shape of the voltage versus time produced by the generator. It can be used to describe full-wave rectified AC, which can be produced by a rectifier circuit.
SUGGESTIONS:
REFERENCES: (PIRA unknown.)
EQUIPMENT: Hand-cranked AC/DC generator with oscilloscope on scope/TV cart.
SETUP TIME: 5 min.
---