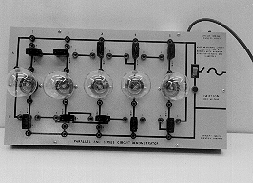 K6-02: SERIES AND PARALLEL LIGHTS - FIVE BULBS
PURPOSE: To demonstrate combinations of series and parallel light bulbs.
DESCRIPTION: Device is connected to 110 VAC power, bulbs are wired in various series/parallel combinations as desired, and the switch is turned on. Check for shorts!
SUGGESTIONS:
REFERENCES: (PIRA 5F20.50)
EQUIPMENT: Series/parallel light array with six light bulbs.
SETUP TIME: None.
---