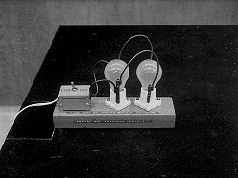 K6-01: SERIES AND PARALLEL LIGHTS - TWO BULBS
PURPOSE: To demonstrate the effect of series and parallel connections of two identical light bulbs.
DESCRIPTION: Two light bulbs can be wired in series or in parallel across 110 VAC circuit. Turn on switch to activate light bulbs after setting patch wires.
SUGGESTIONS:
REFERENCES: (PIRA 5F20.50)
EQUIPMENT: Two 25 watt light bulbs mounted on box with switch.
SETUP TIME: None.
---