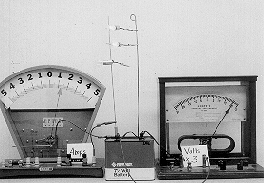 K6-03: SERIES AND PARALLEL LIGHT BULBS - BATTERY AND CLIP-ON WIRES
PURPOSE: To show voltages and currents in series/parallel circuits.
DESCRIPTION: Series and parallel combinations of light bulbs can be connected to the 7.5 volt battery source. Meters indicating current and voltage can be inserted in the circuit as required.
SUGGESTIONS: This is a non-lethal version of demonstrations K6-01 and K6-02.
REFERENCES: (PIRA unknown.)
EQUIPMENT: 7.5 volt battery with attached vertical electrodes, three lamps with clip-on leads, lecture meters.
SETUP TIME: 5 min.
---