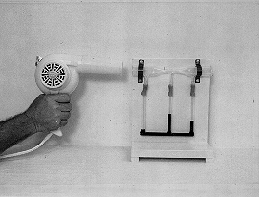 F5-21: VENTURI TUBE WITH MANOMETERS
PURPOSE: To illustrate the venturi effect.
DESCRIPTION: Turn on the blower and slowly move it so that it directs some air into the venturi tube device. The higher water level indicates less air pressure in that tube. Start it slowly; a sudden burst of air can blow out the water. In the picture both the venturi effect and the loss of pressure due to viscous effects can be seen.
SUGGESTIONS:
REFERENCES: (PIRA 2C20.26) See Demonstration Reference File for several illuminating articles on the nature of the Venturi effect.
EQUIPMENT: Venturi tube with connected manometers, blower.
SETUP TIME: None.
---