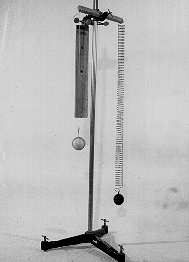 G1-01: EXAMPLES OF SIMPLE HARMONIC MOTION
PURPOSE: To illustrate simple harmonic motion.
DESCRIPTION: This setup includes a pendulum, a physical pendulum, and a mass on a spring, any of which can be set into simple harmonic motion and observed.
SUGGESTIONS:
REFERENCES: (PIRA 3A10.00, 3A15.00, 3A20.00) See Demonstration Reference File for a large number of articles discussing many aspects of SHM and these simple systems.
EQUIPMENT: Pre-assembled gizmo as photographed.
SETUP TIME: None.
---