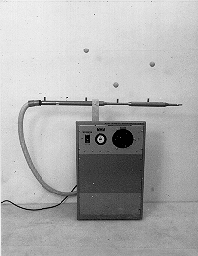 F5-22: VENTURI TUBE WITH PING PONG BALLS
PURPOSE: To demonstrate the venturi effect in a dramatic way.
DESCRIPTION: In this venturi tube the Bernoulli effect is used as a pressure sensor; the higher the ball the greater the pressure of the air coming from that hole. Both the venturi effect and the reduction of pressure along the tube can be seen .
SUGGESTIONS:
REFERENCES: (PIRA 2C20.26) See Demonstration Reference File for further information.
EQUIPMENT: Venturi tube, ping pong balls, blower.
SETUP TIME: None.
---