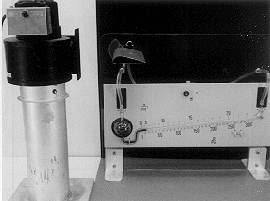 F5-11: AIRPLANE WING
PURPOSE: To illustrate the pressure difference across an airplane wing due to the Bernoulli effect.
DESCRIPTION: A blower creates air flow past the airfoil, which can be rotated. The difference in pressure between the top and the bottom surfaces of the wing, indicated by the manometer, provides an upward force.
The nature of the actual lifting force on a real airplane wing is complex. See the Demonstration Reference File for several papers which discuss this problem.
SUGGESTIONS:
REFERENCES: (PIRA 2C20.50) See Demonstration Reference File.
EQUIPMENT: Airplane wing section mounted on manometer base, blower on stand.
SETUP TIME: None.
---