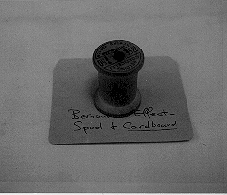 F5-07: BERNOULLI'S PRINCIPLE - SPOOL AND CARDBOARD
PURPOSE: To illustrate Bernoulli's principle in a counterintuitive way.
DESCRIPTION: Place the cardboard piece at the end of the spool with the pin sticking up through the hole of the spool. Blowing into the other end of the spool keeps the cardboard in place. The pin keeps the cardboard from sliding away. It will not blow off! Cessation of blowing allows the cardboard to fall off.
SUGGESTIONS: You can probably win a few bucks with this one at the local pub.
REFERENCES: (PIRA 2C20.41)
EQUIPMENT: Cardboard with thumb tack, spool.
SETUP TIME: None.
---