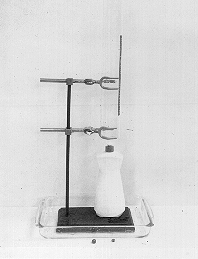 F5-08: BERNOULLI'S PRINCIPLE - MARBLE IN WATER JET
PURPOSE: To demonstrate Bernoulli forces for a water stream.
DESCRIPTION: Squeezing the water bottle causes a water jet to lift a marble about one foot. The marble is held in the water jet by the Bernoulli force. With practice one can make the marble land back on top of the bottle.
SUGGESTIONS:
REFERENCES: (PIRA 2C20.36)
EQUIPMENT: Squeeze bottle with water, marbles, glass tubing, stand, and water collecting tank.
SETUP TIME: 5 min.
---