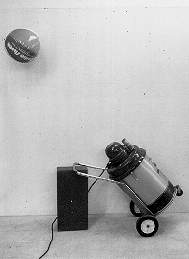 F5-06: BERNOULLI'S PRINCIPLE - BEACH BALL
PURPOSE: To illustrate Bernoulli's principle in a big way.
DESCRIPTION: A beach ball can be floated in the air stream provided by an air blower or vacuum cleaner. The ball remains in the air stream even when the air stream is significantly tilted.
SUGGESTIONS:
REFERENCES: (PIRA 2C20.35)
EQUIPMENT: Vacuum cleaner blower with beach ball.
SETUP TIME: None.
---