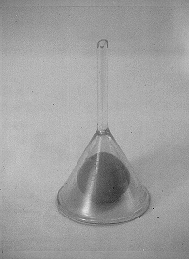 F5-05: BERNOULLI'S PRINCIPLE - SMALL BALL AND FUNNEL
PURPOSE: To illustrate Bernoulli's principle.
DESCRIPTION: A ping pong ball is contained in an inverted funnel. Blowing into the small tube end of the funnel causes the ping pong ball to rise to the top (narrow end) of the funnel.
SUGGESTIONS:
REFERENCES: (PIRA 2C20.35) A larger version is available: F5-04: BERNOULLI'S PRINCIPLE - LARGE BALL AND FUNNEL
EQUIPMENT: Ping pong ball and funnel.
SETUP TIME: None.
---