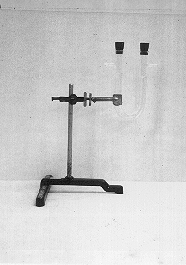 F1-05: DOES WATER SEEK ITS OWN LEVEL?
PURPOSE: A trick to challenge the students.
DESCRIPTION: The liquid level in the left side of the U-tube is higher than that in the right side of the U-tube. How does one explain this?
Two immiscible fluids of different density which are identical in physical appearance are in the two ends of the U-tube. The point where they meet (which could be easily seen) is covered by the clamp which holds the U-tube.
SUGGESTIONS:
REFERENCES: (PIRA unavailable.)
EQUIPMENT: U-tube on stand.
SETUP TIME: None.
---