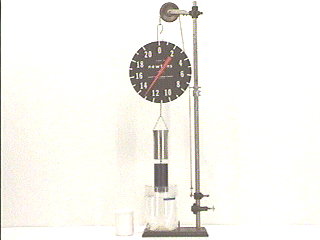 F2-01: ARCHIMEDES' PRINCIPLE
PURPOSE: To demonstrate that the buoyant force on a body submerged in a liquid is equal to the weight of the liquid displaced.
DESCRIPTION: Hanging from the balance are a hollow can and a solid cylindrical metal block of the same volume V. Lowering the metal block into a beaker of water results in a buoyant force equal to the weight of a volume V of water. Pouring the volume V of water into the can restores the original weight as read on the spring scale.
SUGGESTIONS:
REFERENCES: (PIRA 2B40.20)
EQUIPMENT: Setup pre-assembled as photographed.
SETUP TIME: None.
---