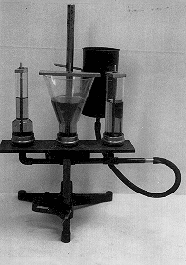 F1-04: EQUILIBRIUM TUBES
PURPOSE: To demonstrate that pressure is transmitted equally throughout a fluid.
DESCRIPTION: By raising and lowering the reservoir, one can show that the water level in all three vases will rise and fall together. From this one concludes that pressure is transmitted uniformly throughout the water.
SUGGESTIONS:
REFERENCES: (PIRA 2B20.40)
EQUIPMENT: Equilibrium tube apparatus with blue water.
SETUP TIME: None.
---