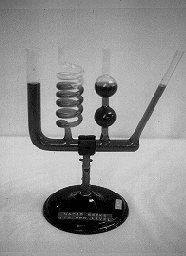 F1-06: WATER SEEKS ITS OWN LEVEL
PURPOSE: To show that pressure is dependent only on depth, not the shape of the container.
DESCRIPTION: The water level in the four different tubes is the same even though the volumes and shapes of the tubes are very different.
SUGGESTIONS:
REFERENCES: (PIRA 2B20.40)
EQUIPMENT: Equilibrium tubes, blue water.
SETUP TIME: None.
---