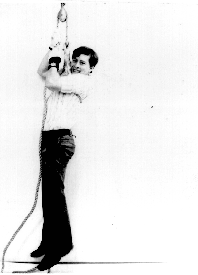 B3-11: PULLEY - HUMAN LIFT
PURPOSE: To demonstrate the mechanical advantage of a pulley.
DESCRIPTION: A pulley is attached to a hook about ten feet above the floor. The subject is able to raise his or her body off the floor by exerting a force equal to one-half of his or her weight. Use gloves to protect hands from rope burn.
SUGGESTIONS: DANGER: Noose must be looped below arms. Standing on rope loop can cause you to flip, leading to possible head injury. DO NOT STAND ON ROPE!
REFERENCES: (PIRA 1M20.20)
EQUIPMENT: Rope and pulley, as photographed, hanging from support.
SETUP TIME: None.
---