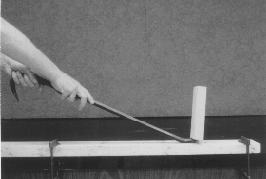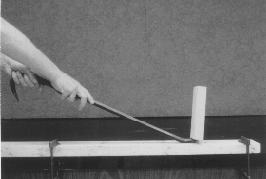 B3-03: LEVER - WRECKING BAR
PURPOSE: To demonstrate the large force attainable using a lever.
DESCRIPTION: Use the lever to pry apart two 2"x4" boards which have been nailed together.
SUGGESTIONS:
REFERENCES: (PIRA 1M20.45)
EQUIPMENT: Two 2"x4" boards nailed together, crowbar, clamps to hold wood steady as shown in photograph.
SETUP TIME: None
---