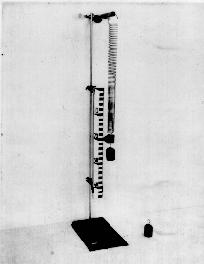 B4-01: HOOKE'S LAW
PURPOSE: To demonstrate the linear relationship F=-kx for a simple spring.
DESCRIPTION: Two weights are provided to show linearity over a factor of two in applied force.
SUGGESTIONS:
REFERENCES: (PIRA 1R10.10) See Demonstration Reference File for paper on how to make a linear spring out of one which is not quite linear.
EQUIPMENT: Brass spring on scale with two 200 g weights, as photographed.
SETUP TIME: None.
---