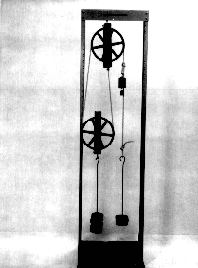 B3-12: PULLEY - MECHANICAL ADVANTAGE
PURPOSE: To demonstrate quantitatively the mechanical advantage of a pulley.
DESCRIPTION: The system is initially balanced to account for the weight of the pulleys and rope by adding small weights on the free end of the rope. For every two kilograms hanging from the pulley, the system requires one kilogram hanging from the free end of the rope to obtain equilibrium. Show that deviation from the 2:1 ratio destroys the static equilibrium.
SUGGESTIONS:
REFERENCES: (PIRA 1M20.11)
EQUIPMENT: Pulley system mounted as photographed in rolling frame, six 1 kg weights, small balancing weights.
SETUP TIME: None.
---