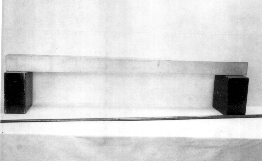 B1-21: BALANCE BEAM - VARIATION ON THE TIGHTROPE WALKER
PURPOSE: To show how arms or a pole are used to obtain greater stability.
DESCRIPTION: Walk across the beam without a pole. Point out how the arms are used to maintain balance (keeping the CM of the system over the beam surface) and, at the same time, to increase the moment of inertia. Use the pole to help walk across the beam. Note that use of the pole increases the moment of inertia. Holding the pole low (below your center of mass) lowers the center of mass of the system.
SUGGESTIONS:
REFERENCES: (PIRA unavailable.)
EQUIPMENT: Eight foot long 4"x4" beam, two support boxes, and balance pole, as photographed.
SETUP TIME: None.
---