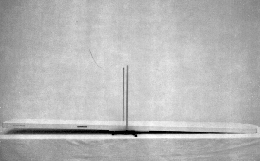 B1-22: CENTER OF GRAVITY USING TEETER TOTTER
PURPOSE: To determine the center of gravity of the human body.
DESCRIPTION: Vertical rods are placed near the teeter totter to locate the vertical plane through the pivot line of the board. A piece of tape, used to indicate this plane, is stuck to the clothing after the teeter totter is balanced. Planes can be determined with the subject lying on the board, standing on the board facing forward, and standing on the board facing to the side. The intersection of these three planes is the center of mass of the body.
SUGGESTIONS: A center of gravity position outside the body can be obtained with the subject in a jack-knifed position during the measurements.
REFERENCES: (PIRA unavailable.)
EQUIPMENT: Board, fulcrum tall stands, and roll of masking tape. (Body not furnished.)
SETUP TIME: 5 min.
---