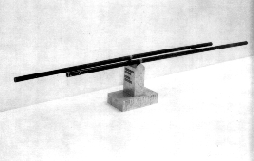 B1-17: CENTER OF MASS - STICKS
PURPOSE: To demonstrate the affect of changing the center of mass on two otherwise identical objects.
DESCRIPTION: Two sticks are identical in appearance, but one is uniform in density and the other is weighted at one end. They can be marked either at the center of mass or where it appears to be, leaving the student to explain the peculiar behavior of the weighted stick when it is thrown or balanced.
SUGGESTIONS:
REFERENCES: (PIRA unavailable.)
EQUIPMENT: Two sticks with aluminum support, as photographed.
SETUP TIME: None.
---