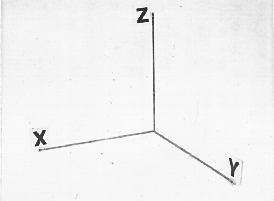 A2-01: CARTESIAN COORDINATE AXES
PURPOSE: To illustrate a standard right-handed cartesian coordinate system.
DESCRIPTION: Use it to show students what a cartesian coordinate system looks like in three dimensions and to remind students of the relationship between the directions chosen for the three axes.
SUGGESTIONS:
REFERENCES: (PIRA 1A30.10)
EQUIPMENT: Labeled axes, as photographed.
SETUP TIME: None.
---