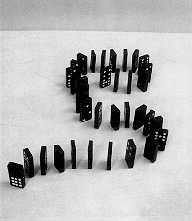 P4-61: CHAIN REACTION - DOMINOES MODEL
PURPOSE: Model of a nuclear chain reaction.
DESCRIPTION: Line up your dominoes in a row so that each one tips one, modeling a controlled chain reaction. If you want to get real fancy, set it up so that one hits two, each of which eventually hits two more, etc. to model an uncontrolled chain reaction.
SUGGESTIONS:
REFERENCES: (PIRA 7D20.20)
EQUIPMENT: 40 dominoes.
SETUP TIME: None.
---