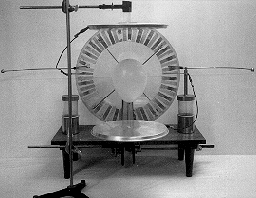 P4-51: MILLIKAN OIL DROP MODEL
PURPOSE: Demonstrate geometry for the Millikan oil drop experiment.
DESCRIPTION: This is a non-working model to illustrate the geometry of the Millikan experiment. A helium balloon tethered to the lower plate represents the oil drop. The plates are charged by the Wimshurst machine to create the electric force on the charged oil drop.
This is sort of a weird model, but it apparently helped someone.
SUGGESTIONS:
REFERENCES: (PIRA unknown.)
EQUIPMENT: Wimshurst machine, mounted plates, and helium balloon tethered to lower plate.
SETUP TIME: 5 min.
---