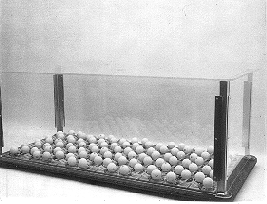 P4-62: CHAIN REACTION - MOUSE TRAP MODEL
PURPOSE: Model of uncontrolled nuclear chain reaction.
DESCRIPTION: Ping pong balls are positioned on each loaded mousetrap. When a ball is thrown into the box from a hole in the top, it releases the trap which it hits, adding energy to the two balls involved. Each of those balls then hits another trap, multiplying the effect.
This demonstration is a real winner!
SUGGESTIONS:
REFERENCES: (PIRA 7D20.10)
EQUIPMENT: Visible plastic box with 100 mouse traps and 100 ping pong balls, superball.
SETUP TIME: A good 15 minutes.
---