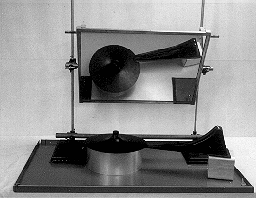 P4-42: ALPHA PARTICLE SCATTERING ANALOG
PURPOSE: Model of Rutherford's alpha particle scattering experiment.
DESCRIPTION: This demonstration shows the deflection due to a repulsive 1/r potential, dependence of scattering on impact parameter and velocity.
Turn the potential model upside down to show an attractive potential.
SUGGESTIONS:
REFERENCES: (PIRA 7D50.10)
EQUIPMENT: Ball bearing alpha particles, launching ramp with 1/r scattering potential model, bearing collection tray, and mounted mirror.
SETUP TIME: 5 min.
---