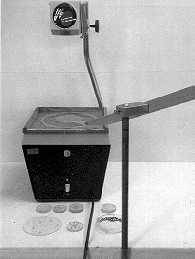 P4-41: RUTHERFORD SCATTERING MODEL
PURPOSE: Show difference in scattering from the Thompson and Rutherford models of the nucleus.
DESCRIPTION: Small ball bearings representing alpha particles roll down an inclined groove to gain kinetic energy, then pass through representations of either Thompsons model of the nucleus or Rutherford's model of the nucleus. The angle of the track can be adjusted to change the energy of the alpha particles.
SUGGESTIONS:
REFERENCES: (PIRA 7D50.35)
EQUIPMENT: Wood groove track on stand, overhead projector tray, various models, supply of ball bearing alpha particles with overhead projector.
SETUP TIME: 5 min.
---