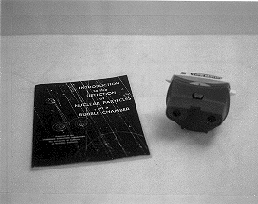 P4-33: BUBBLE CHAMBER TRACKS - THREE DIMENSIONAL VIEWMASTER
PURPOSE: Individual viewing of bubble chamber tracks in three dimensions.
DESCRIPTION: Stereo photographs of bubble chamber tracks can be viewed individually by students using the three-dimensional viewmaster. A guide book identifies the reactions in each photograph and has separate drawings highlighting the tracks of interest.
SUGGESTIONS: If your interest isn't physics, other three-dimensional photos are available.
REFERENCES: (PIRA unknown.)
EQUIPMENT: Viewmasters with stereo reels and guide book.
SETUP TIME: None.
---