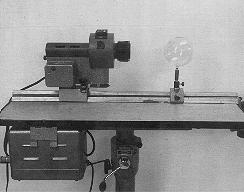 P3-52: RESONANCE RADIATION
PURPOSE: Show resonance radiation of iodine.
DESCRIPTION: A glass sphere containing iodine vapor is illuminated by a bright point source, and characteristic radiation can be seen as scattered light. The light scattered by the iodine vapor is yellow, and the light passing through the sphere is a desaturated pink.
SUGGESTIONS:
REFERENCES: (PIRA unknown.) See Demonstration Reference File for interesting literature on this phenomenon.
EQUIPMENT: Bright point source with spherical flask of iodine vapor.
SETUP TIME: None.
---