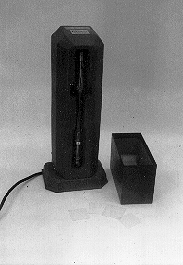 P3-51: BALMER SERIES
PURPOSE: Observe the Balmer series in hydrogen.
DESCRIPTION: The discharge tube provides an electrical discharge through low-pressure hydrogen, resulting in the characteristic hydrogen spectrum. The Balmer series of lines is visible. The spectrum can be observed using hand-held holographic diffraction gratings.
SUGGESTIONS:
REFERENCES: (PIRA 7B10.10)
EQUIPMENT: Power supply with hydrogen tube, holographic gratings.
SETUP TIME: None.
---