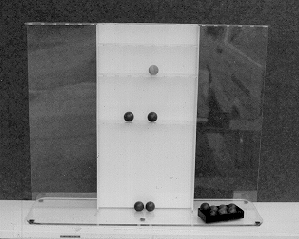 P3-53: ATOMIC ENERGY LEVEL MODEL
PURPOSE: Model of energy levels in the atom.
DESCRIPTION: This model has four levels with the appropriate number of electrons for each level: 2, 8, 8, then 18 for the top level. The spacing between each higher level is less, as in the actual electron energy level spacing. Various balls of different color can be used to differentiate between electrons. The pink one just might be the outer electron.
SUGGESTIONS: Use it as a nuclear energy level model for protons and neutrons.
REFERENCES: (PIRA 7B50.10)
EQUIPMENT: Atomic energy level model with ball electrons.
SETUP TIME: None.
---