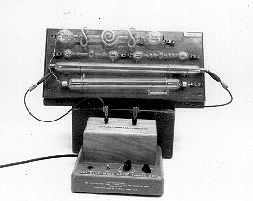 P3-24: CATHODE RAY TUBES - MISCELLANEOUS
PURPOSE: Illustrate various types of discharge tubes.
DESCRIPTION: Connect the power supply to one discharge tube at a time to see it discharge. Connect to common wire at left and run one tube at a time by choosing its connector on the right.
SUGGESTIONS: Turn off power supply when changing high voltage leads.
REFERENCES: (PIRA unknown.)
EQUIPMENT: Spark coil power supply, four mounted tubes: two Geissler type, one flat cathode, one tube with cylindrical connectors).
SETUP TIME: None.
---