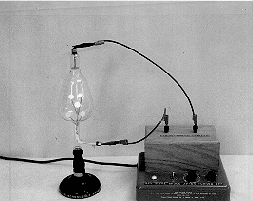 P3-23: CATHODE RAY TUBE - FLUORESCENCE EFFECT
PURPOSE: Demonstrate fluorescence in a cathode ray tube.
DESCRIPTION: A group of minerals which fluoresce with different colors when irradiated with electrons are in the base of the tube. It's not overwhelming, but it's nice.
SUGGESTIONS:
REFERENCES: (PIRA unknown.)
EQUIPMENT: Cathode ray tube with fluorescent samples, power supply.
SETUP TIME: None.
---