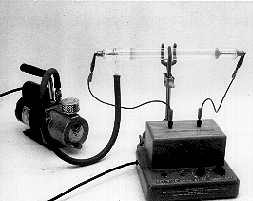 P3-25: CATHODE RAY TUBE - CONCAVE CATHODE
PURPOSE: Show what happens in a discharge tube as the pressure is changed.
DESCRIPTION: Turn the pump on and off for brief periods to vary the pressure while observing the effect on the discharge. A gauge on the pump reads the pressure.
SUGGESTIONS:
REFERENCES: (PIRA unknown.)
EQUIPMENT: Spark coil power supply, discharge tube, and vacuum pump.
SETUP TIME: 5 min.
---