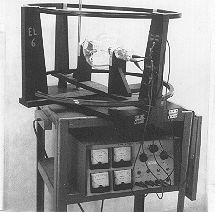 P2-31: E/M OF ELECTRON
PURPOSE: To demonstrate that the charge and the mass of electrons are quantized.
DESCRIPTION: This is the classic lab apparatus. Electrons ejected from a hot filament are accelerated by a DC voltage and bent in circles by the magnetic field of a large pair of Helmholtz coils. The path of the electrons is visible due to interaction of the electron beam with residual nitrogen gas in the tube, which produces the characteristic blue glow.
SUGGESTIONS: NOTE: Apparatus may be damaged if operating instructions are not followed. Instructions are delivered with the apparatus.
REFERENCES: (PIRA unknown.)
EQUIPMENT: E/M of electron apparatus, complete.
SETUP TIME: One hour (must be obtained from labs).
---