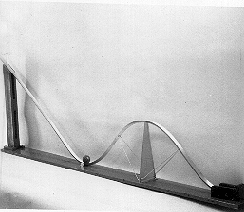 P2-41: POTENTIAL WELL - HILL TRACK MODEL
PURPOSE: Illustrate the concept of a quantum mechanical potential well.
DESCRIPTION: The hill track is treated as a potential well. The behavior of the ball in the well can be observed for various values of total energy.
SUGGESTIONS:
REFERENCES: (PIRA unknown.)
EQUIPMENT: Hill track.
SETUP TIME: None.
---