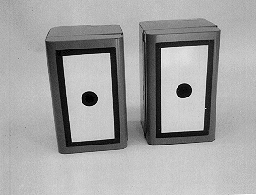 P2-22: BICHSEL BOXES - BLACK BODY RADIATION
PURPOSE: Demonstrate Wien's law of radiation.
DESCRIPTION: The two holes appear equally dark, although the inside of one box is painted white and the other is painted black. The radiation emerging from the holes is a function only of temperature.
SUGGESTIONS:
REFERENCES: (PIRA unknown.)
EQUIPMENT: Two identical boxes, except that one is black inside and one is white inside.
SETUP TIME: None.
---