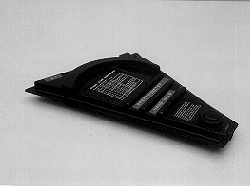 N1-51: SPECTROMETER - HAND HELD
PURPOSE: Demonstrate spectra individually.
DESCRIPTION: This device uses a diffraction grating to create a spectrum. Hold the spectrometer up to your eye and aim it at the light to be analyzed. A calibration scale is contained in the device.
SUGGESTIONS:
REFERENCES: (PIRA unavailable.)
EQUIPMENT: Hand-held spectrometer.
SETUP TIME: None.
---